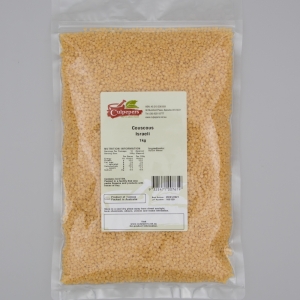 Couscous - Israeli 1kg
Culpepers' couscous - Israeli is larger than our traditional couscous. It is made from wheat flour and semolina. It is ball shaped and this couscous is toasted instead of simply dried.
Code:
CCI1
Quantity:
Good Supply
Availability:
Always Available
Usage
Cook the couscous in boiling water or in water that has been mixed with Culpepers' chicken, beef, vegetable or mushroom stock powder. Serve with prepared meat and vegetable.
To make an exciting desert - Cook the couscous in boiling water, drain, mix with butter, sugar, cinnamon, raisings, chopped nuts and then top with ice cream. Yum
Medicinal Powers?
Fun Facts
Couscous has less kilojoules than rice.
Originally called Ben-Gurion rice after Israels first Prime minister whom suggested the idea to the Osem food company in 1953.
It later became known as Ptitim but some people know it as Jerusalem Couscous.
Country of Origin
Ironically, Culpepers' Couscous Israeli comes from Tunisia.