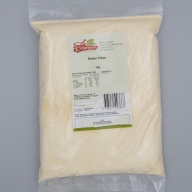 Besan Flour 1kg
It is a pulse flour. Also known as Gram flour or Chick Pea flour.
Code:
BESFL1
Quantity:
Good Supply
Availability:
Always Available
Usage
It has many uses. In Italian cuisine it is often used to make Farinat, in French cuisine to make Socca and in Southern Spain to make tortillitas de camarones. It mixes well in soups, stews or with pancakes and waffles.
It can add a nutty flavour to breads or sauces.
Medicinal Powers?
In ancient cultures, chick pea related products were associated with the goddess Venus. They were said to offer medical benefits of increased sperm and breast milk production.
It may help to decrease cholesterol and control blood sugar levels.
Besan flour is gluten free so it can be used when people have an intolerance to gluten.
Fun Facts
Most Besan flour comes from Kabuli chick peas, which has a light cream colour, a large seed and a smooth coat compared with other chick peas. The name comes from Afghanistan and the Afghani capital is Kabul!
Australia is the second largest producer of Chick Peas.
Besan flour is also used as a cosmetic to clean skin and used as an exfoliant.
Country of Origin!
Culpepers' Besan flour comes from Australia.