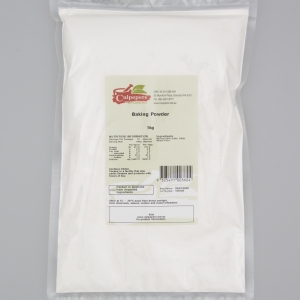 Baking Powder 1kg
Baking powder is a chemical leaving agent. This is a double acting baking powder suitable for use with plain flour. It is used to increase the volume and reducing the bulk density of baked goods.
Code:
BAKPWD1
Quantity:
Good Supply
Availability:
Always Available
Usage
Baking powder works by releasing carbon dioxide into the batter or dough through an acid-base reaction. This creates bubbles in the wet mixture to expand thus leavening the mixture.
Generally you need 5g for every 125g of flour. It needs to be carefully measured and thoroughly mixed as foods may have an acidic taste if not mixed properly. Also if other ingredients are acidic, then less baking powder should be used.
Medicinal Powers?
None found.
Baking powder contains gluten which is a known allergen.
Fun Facts
In times past, when chemically manufactured baking soda wasn't available, ash water was used instead, especially in making confectionery. Wood ash is a weak alkaline.
Regardless of the expiry date on the packet, the effectiveness of baking powder can be tested by placing a teaspoon of powder into hot water. If it fizzes it is still active!
It was discovered by Alfred Bird in 1843. The discovery was celebrated with a patriotic cake, the "Victoria Sponge."
Mass production of baking powder started in Germany in 1898.
Country of Origin!
Culpepers' Baking powder is blended in Australia from Imported ingredients.