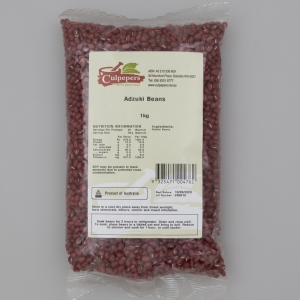 Adzuki Beans 1kg
These are a popular pulse that have a sweet, nutty flavour.
Code:
ADZUKI1
Quantity:
Good Supply
Availability:
Always Available
Usage.
Rinse the beans thoroughly in clean water and drain. Add fresh water, bring to boil and then cook for about 65 minutes on the stove top.
Used to make Miso soup, smashed to make a vegetarian burger, served as a part of a meal. Adzuki beans are very versatile.
Medicinal Powers?
They are one of the pulses that contain the proteins found in seeds and grains, so they are popular with vegetarians.
They are high in fibre and essential vitamins and minerals.
Fun Facts
Adzuki is the Japanese name for the bean. They are native to Asia and are mostly grown in Japan, China and Thailand. Some are grown in Australia.
Also known as chori in India, xiao dou in China, red cow peas or red mung beans.
They grow well even in poor quality soil. Farmers plow the harvested plants into the soil to boost nitrogen levels.
Country of origin.
Culpepers Adzuki beans come from Australia.