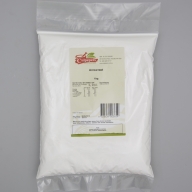 Arrowroot 1kg
It is a starch that comes from the root of tropical tapioca plant.
Code:
ARR1
Quantity:
Good Supply
Availability:
Always Available
Usage
It is a white powder. It is added to baked products, including biscuits, pudding and cakes. Also in jelly, sauces, flavoured milk, Herbal tea or even in broth! It is used as a food thickener such as for quinoa burgers.
Medicinal Powers?
The name comes from the time when the root powder was used treat people whom had suffered from a poison arrow wound. They applied the "arrow" root powder to the wound to draw out the poison.
It may help blood circulation and digestion.
It was used medicinally in Victorian times to wean babies from mother's milk.
Fun Facts
Ever tried a Milk Arrowroot biscuit? They used to be thought off as a nutritious starchy biscuit for babies.
For more than 7000 years, Arrowroot was used for different applications such as in paper manufacturing, as a cosmetics, a deodorant and pharmaceuticals or even as a substitute for talcum powder.
Country of Origin!
Culpepers' Arrowroot comes from Thailand!