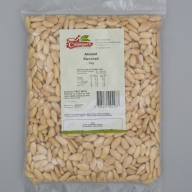 Almonds - Blanched 1kg
Almonds originated in the Middle east and in South East Asia. They grow very well in Australia. A blanched Almond is an almond kernel that has had the skin removed. The skinless kernel is very white.
Code:
ALMBLCH1
Quantity:
Good Supply
Availability:
Always Available
Usage
Mostly as a cake decoration but suitable as a snack food. They can be used in salads, cakes, or sauces and mix well with fish, pork and chicken.
Medicinal Powers?
Rich source of antioxidants, calcium, protein, vitamin E, magnesium, selenium and potassium.
Low in sodium and cholesterol.
Fun Facts
The skin is removed by literally "Blanching" the Almonds with hot water. Commercially this is done with steam, but if you need some in a hurry and only have regular almond kernels then pour boiling water over them until they are covered. Let them soak for a minute, then remove them from the water to prevent the almonds from becoming soggy. Then simply slip off and discard the brown skins, work quickly because the skins become increasingly difficult to remove as the almonds dry.
Country of Origin!
Culpepers' Almonds are Australian Grown!