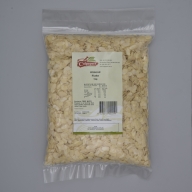 Almonds - Flaked 1kg
Almond kernels which have been blanched and then sliced into flakes.
Code:
ALMFLA1
Quantity:
Good Supply
Availability:
Always Available
Usage
Cake decorating and in cereals. Delicious with chicken salads or rice salads.
Almond has a delicate flavour and a versatile taste.
Medicinal Powers?
Rich source of antioxidants, calcium, protein, vitamin E, magnesium, selenium and potassium.
Almonds may lower cholesterol when added to a healthy way of eating and could reduce the risk of heart disease.
They can provoke allergies in some people.
Fun Facts
Despite being native to the Middle East the worlds largest producer is the USA.
Country of Origin!
Culpepers' Almonds are from Australia!