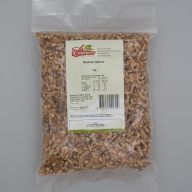 Walnut Halves and Pieces 1kg
Walnuts which have been de-shelled and halved. Generally the lighter the colour the better. Darker Walnuts may be bitter. Culpepers Walnuts are "LHP" Light Halves and Pieces.
Code:
WALH1
Quantity:
Good Supply
Availability:
Always Available
Usage
Great as a snack, they are also used in salads, pasta dishes, sauces, and in sweet bakery products such as sticky buns.
A Waldorf salad is traditionally made with fresh sliced apples, celery and walnuts. It is dressed in mayonnaise and usually served on a bed of lettuce.
Medicinal Powers?
They are claimed to be a super food. They have high levels of minerals, Vitamin B 6 and Foliate. They are also high in Omega 3 fats and antioxidants.
They potentially lower disease-causing inflammation.
Fun Facts
The Latin word for Walnuts is "Juglans" meaning the nuts of the Gods!
The nuts are widely grown in California USA and in Northern China. However they are native to Asia. Today, the largest producers of Walnuts are China, Iran and the USA.
A fully grown Walnut tree may grow to 24 meters high!
In medieval times Walnuts were believed to be able to cure headaches because they resemble the brain.
Due to it's thermal properties, NASA has used pulverized walnut shells as insulation in the nose cones of its rockets.
Country of Origin!
Culpepers' Walnut Haves come from the USA or China!