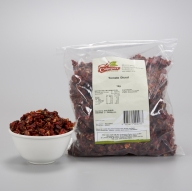 Tomatoes - Sun dried and diced 1kg
These are ripe tomatoes that lose most of their water content after drying out in the sun.

Code:
TOMD1
Quantity:
Good Supply
Availability:
Always Available
Usage
They are used in bakery products, in cheese and to add flavour and colour to casseroles. Delicious with pasta, chicken and pork, in risotto, salad dressing or as a stuffing.
To rehydrate - Soak the tomatoes in clean water for 30 to 60 minutes. Drain and pat dry. Use in recipe as directed. You can substitute bullion, wine or vegetable juices for the water to alter the flavour profile. If soaking over night then place in refrigerator to prevent spoilage.
Medicinal Powers?
The tomatoes are high in antioxidants and Vitamin C. They are low in sodium, fat and calories.
Tomatoes are a nightshade.
Fun Facts
It takes anywhere from 8 to 14 kilos of fresh tomatoes to make a single kilo of sun-dried tomatoes!
The tomatoes are high in lycopene (that's where the red colour comes from).
Tomatoes are originated in the South American Andes and was first cultivated as a food by the Aztecs in Southern Mexico.
Country of Origin!
Culpepers' Sun Dried tomatoes comes from Turkey!