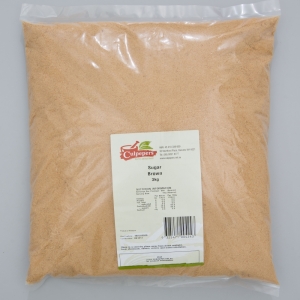 Sugar - Brown 3kg
Brown sugar is a sucrose sugar product with a distinctive brown colour due to the presence of molasses. Also known as Light Brown Sugar.
Code:
SUGBRN3
Quantity:
Good Supply
Availability:
Always Available
Usage
Used in baking and as a sweetener in cooking. Also adds brown colour to the food.
Add a teaspoon of brown sugar to balsamic vinegar when preparing a balsamic reduction.
Medicinal Powers
Brown Sugar has a slightly lower caloric value by mass than white sugar. It is a source of calcium, magnesium, potassium and Iron.
It may have less calories than white sugar because it contains more water.
Fun Facts
During the 1900's the white sugar industry mounted a smear campaign against brown sugar manufacturers using photo's of harmless microbes living in the sugar.
Brown sugar can hold its shape like wet sand!
It is a popular ingredients to make body scrubs.
Brown Sugar is the name of a song of the Rolling Stones and is also a movie produced by Rick Famuyiwa.
Country of Origin!
Culpepers' Brown Sugar comes from Australia!