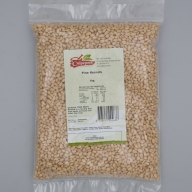 Pine Kernels 1kg
The eatable seed from the pine tree. Pine kernels can be harvested from over 20 pine tree species. Pine kernels have a mild nutty flavour. They should not be eaten raw as it will temporarily neutralize your taste buds.
Code:
PINKERN1
Quantity:
Good Supply
Availability:
Always Available
Usage
Pan fried or lightly roasted, they are commonly used in salads and in savoury dishes and in Pesto's. Used in chocolates, bread products, and is the key ingredient in the popular Italian Pignoli Cookies.
A "basil pesto" has 1 part pine kernels, 1 part parmesan cheese and 6 parts basil. Mix well. Then add garlic, olive oil and salt and pepper. Then blend. Store at 4 C until required.
Medicinal Powers?
Has 30% protein and is a great source of Fibre.
It used to used as a restorative after a long illness. It may reduce a fever in the bladder and urine.
It may help to prevent and treat obesity and aiding with blood pressure.
During the Egyptian time, people used to give them for some illness such as coughing or chest problems.
Fun Facts
Pine kernels mostly come from Northern China and to a lesser extent Portugal. Pine kernels can cause a taste disturbance (Decreased taste sensitivity). Known as Pine nut syndrome the decreased taste sensitivity may last from a few days to a few weeks so they should not be eaten raw.
Turpentine comes from the distillation of pine leaves and pine tree bark.
Pine kernels are sold by the number of kernels per pound and graded by the appearance of blemishes and chips.
They have been cultivated for 10 000 years. Pine nut are mentioned in the ancient Greek history and was eaten by Roman soldiers as a "campaign food". In Europe and India, pine nuts were popular dating back to the Paleolithic era.
A philosopher and scholar from Persia used to recommend to eat them because he thought it was an aphrodisiac.
Country of Origin!
Culpepers' Pine Kernels come from China!