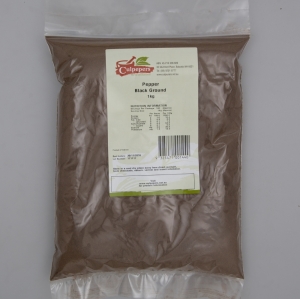 Pepper - Black Ground 500g
Black peppercorns which have been ground into a fine powder. Pepper stimulates the appetite. It is often served freshly ground at the table.
Code:
PEPBGR500
Quantity:
Good Supply
Availability:
Always Available
Usage.
Lightly sprinkle on cooked food to add flavour or use as a cooking ingredient. It can be added to strong flavour dishes, such as red meat or seafood cooking. Black pepper has the most distinctive taste of all the peppers.
Medicinal Powers?
Extracts from pepper have been found to have antioxidant properties and anti-carcinogenic effects.
Pepper is naturally antibacterial.
Fun Facts.
Today, pepper accounts for 20% of the worlds trade in spices.
Pepper is naturally insecticidal.
Ground black pepper is usually grey. That means it is composed with a lot of white hearts, which are inside the berries.
Country of Origin!
Culpepers' Pepper comes from India, Malaysia, Indonesia, Vietnam or Brazil!