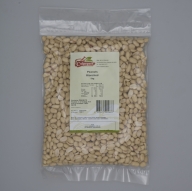 Peanuts - Blanched 1kg
Peanuts which have been de-shelled and blanched. The skin is removed by high pressure steam.
Code:
PNUTBLCH1
Quantity:
Good Supply
Availability:
Always Available
Usage
Peanuts are used in a wide variety of dishes and sauces such as satay chicken. Also great as a healthy snack.
Medicinal Powers?
Peanuts are a good source of Niacin, Foliate, Vitamin E, Magnesium and Phosphorus.
May help to have a healthy heart thanks to the monounsaturated fats peanuts contain.
Fun Facts
Peanuts are in reality a legume and aren't a nut at all. Speaking botanically, they are a legume and are considered as an oilseed.
The Spanish and Portuguese explorers who found peanuts brought them on their voyages to Africa. Now peanuts are used in many African traditional food cuisine.

Country of origin.
Culpepers' Blanched Peanuts come from China or Argentina