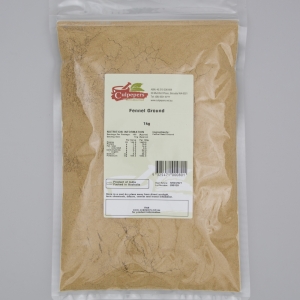 Fennel Ground 1kg
Fennel is a highly aromatic and flavourful herb with a similar taste to anise. The seeds are ground into a fine powder.

Code:
FENG1
Quantity:
Good Supply
Availability:
Always Available
Usage
Often used in pasta dishes, seafood and in potato salad. Also added to breads or biscuit, in Italian sausages or Malay curries.
It is the official compound ingredient in Liquorice.
It mixes well with many spices such as allspice, cloves, cumin mustard, paprika or turmeric.
Medicinal Powers?
It is said to improve eyesight.
In olden days it was believed that boiled seeds soaked in wine was a remedy for people whom have eaten poisonous herbs or mushrooms.
Fennel is also supposed to help improve the condition of the liver, spleen and gall bladder. Could also be effective in managing gout.
Fun Facts
In Greek Mythology, Prometheus used the stalk of a fennel plant to steal fire from the Gods and give fire for the first time to humans. Fennel is also used as a flavouring in some natural toothpastes. Also used to flavour some medicines so as to improve the taste.
Fennel bulbs are harvested when they are bigger than a tennis ball.
Country of Origin!
Culpepers' Fennel ground comes from India!