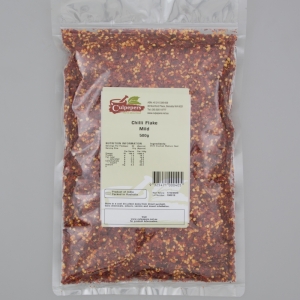 Chilli Flakes - Mild 500g
Dried chillies from the fruits of Capsicum Frutescence or Annuum, which have been coarsely ground into flakes. They are approximatly 30,000 SHU.
Code:
CHILFM500
Quantity:
Good Supply
Availability:
Always Available
Usage
It is used to flavour curries and any savoury dish that needs "Heating up". Delicious when sprinkled over pizza or in pasta sauces.
Medicinal Powers?
Capsicum may be a safe and effective topical analgesic agent in the management of arthritis pain and herpes zoster-related pain.
Fun Facts
Chilli Peppers originated in the Central Americas. The Nahuati (Informally known as Aztecs) were the first recorded users of chillies. The language the "Nahuati" coined the word chilli that is the common Spanish and subsequently English name used today. Other "Nahuati" words that made it into the English language include avocado, chocolate, coyote and tomato.
In Spanish it is chili. In Nahuati it is chilli and in English it is either spelling.
Country of Origin!
Culpepers chilli comes from India!