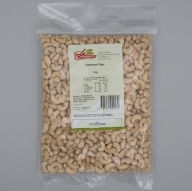 Cashews Raw 1kg
In English name for Cashews comes from the Portuguese name "Caju" meaning fruit of the tree. The cashew seed is harvested from the fruit.
Code:
CASHRAW1
Quantity:
Good Supply
Availability:
Always Available
Usage
Popular as a snack food and is also used in cooking, dips, ice-creams, sauces etc. Delicious in vegetarian dishes.
Medicinal Powers?
Great source of Protein, Healthy Mono-Saturated Fats, Calcium and Iron.
The oil extracted form the cashew seed may help to cure cracked heels. When the seeds are ground into a powder, they might have an anti-venom effects for snakes bites.
They also could have some medicinal properties such as aiding the immune system and possibly relieving the effects of diabetes.
Fun Facts
A fruit drink made from the cashew apple pulp has a very refreshing taste and a tropical flavour. It has been described as have the flavour of Mango, raw green pepper and a hint of grapefruit.
Cashews are harvested by hand !
Country of Origin!
Culpepers' Cashews come from Vietnam or India!