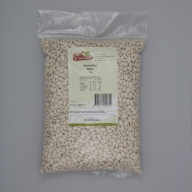 Cannelini Beans 1kg
They are very white. Also Known as Great Northern Beans and as White Beans.
Code:
CANNEL1
Quantity:
Good Supply
Availability:
Always Available
Usage
Soak in fresh water for about 3 hours at 4 degree C. Drain and refresh the water to cook for about 60 to 90 minutes. Great in soups, salads, stews and pies. Used in popular Italian dishes such as the Minestrone.
Medicinal Powers?
High in Protein, fibre and iron.
Can possibly aiding in weight loss because it helps to decrease appetite.
In rare cases, they can cause an allergic reactions.
Fun Facts
They are known as Great Northern Beans in the USA and are also known as White Beans because of their colour.
Cannelini Beans are originated in South America, from Peru or Argentina. They were imported to Europe in the 15th century by the Spanish explorers.
The residents of Tuscany have been affectionately nicknamed "Mangiafagioli" which means "Bean eaters".
Country of Origin!
Culpepers' Cannellini Beans come from either Australia, USA or Canada.