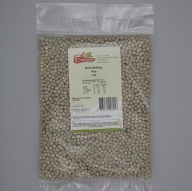 Blue Boiling Peas 1kg
Also know as mushy peas.
Code:
BLUEBOIL1
Quantity:
Good Supply
Availability:
Always Available
Usage
These peas are dried and should be soaked in clean water for about 4 hours in the fridge. Add 2 teaspoons of bi-carb soda and 1 teaspoon of salt for each kilo of peas. Rinse well prior to use. Cook for about 60 minutes. It's often served mushy with fish and chips. Sometimes mint is added. Can also be used to make a pea and ham soup.
Medicinal Powers?
High in fibre. Avoid adding green colour to the peas. It is done to improve the presentation but it's not good for you!
Fun facts.
Health Ministers are working toward a ban on adding green colour to Blue Boilers Peas. Their natural colour in a blue / grey.
AKA Marrowfat Peas.
Country of origin!
Our Blue Boiler Peas come from Australia or New Zealand.