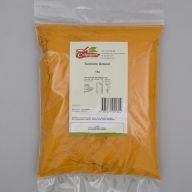 Turmeric Ground 1kg
Turmeric is related to Ginger. It is a rhizomatous herbaceous perennial plant (Underground plant stem). It is dried and ground into a fine powder.
Code:
TURG1
Quantity:
Good Supply
Availability:
Always Available
Usage.
It is mostly used to add a yellow colour to foods. It is used in Curry Powder to give it a golden hue. Sometimes used mixed in with rice. Is also used to give colour and flavour to Dukkah.
Medicinal Powers?
Turmeric may have antifungal and anti-bacterial properties. Ointments containing turmeric are applied as an antiseptic in Asia.
In India some believe that if you mix it into warm milk it'll help reduce a fever.
Fun Facts.
In medieval Europe, Turmeric became to be known as "Indian Saffron" because it was widely used as an alternative to the far more expensive Saffron. Nevertheless, they taste really differently.
From the 8th century to the 13th century, in Malagasy Republic (Madagascar), Turmeric was being used as a dye.
Be careful, Turmeric leaves stains on clothes!
Turmeric oleoresin is extracted to use it as a natural colour in the food but also in the pharmaceutical industry. Furthermore, the yellow turmeric paper is used as a test for alkalinity. In Asia, turmeric water is used as cosmetic.
Country of Origin!
Culpepers' Turmeric comes from India!