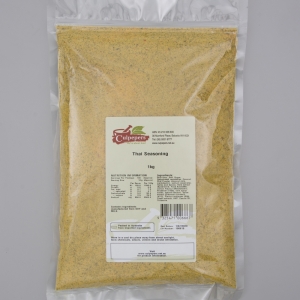 Thai Seasoning 1kg
A mixture of spices that gives a "Thai" cooking flavour to a dish.
Code:
THAISEAS1
Quantity:
Good Supply
Availability:
Always Available
Usage.
For use in Thai cooking as a flavour. Can be added to meats, vegetables and salads.
Medicinal Powers?
It is dependent on the ingredients used to make the seasoning.
Fun Facts.
According to Thai Cuisine expert David Thompson "Thai Food ain't about simplicity. It's about the juggling of separate elements to create a harmonious finish!"
Country of Origin!
Culpepers' Thai Seasoning is blended in Australia form Imported Ingredients!