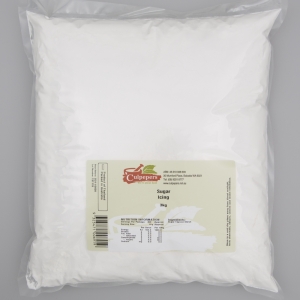 Sugar - Icing 3kg
Icing sugar, also known as confectioners' sugar or powdered sugar, is very fine sugar.
Code:
SUGIC3
Quantity:
Good Supply
Availability:
Always Available
Usage
Generally used to make icing for cake and biscuit decorations. It can also be used to make shortbread, cream fillings, marshmallow and fondant.
Medicinal Powers?
Sugar is a carbohydrate and provides a source of energy.
Fun Facts.
Will have a small amount of anti-caking agent in the sugar such as corn flour to stop it from going lumpy.
The term 'icing sugar' is also used as a medical term when white material is found on the external surface of the spleen. A healthy spleen is a dark red/brown in colour.
During the 16th century, a teaspoon of sugar cost the equivalent of 5 dollars in London.
Did you know ? Lemons have more sugar than strawberries!
Sugar is also used to make detergent as well as in the textile industry for sizing and finishing fabrics by converting sugar adipic acid, to create nylon for example.
Country of Origin!
Culpepers' Icing Sugar comes from Australia!