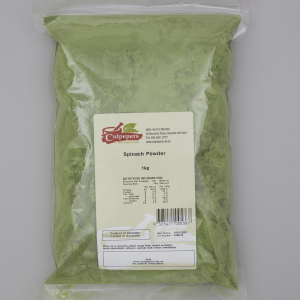 Spinach Powder 1kg
Spinach is a vegetable that has a broad green leaf that is eatable. These leaves are dried and then ground into a fine powder.
Code:
SPINPOWD1
Quantity:
Good Supply
Availability:
Always Available
Usage
Adds spinach flavour and green colouring to cooked savoury foods.
Medicinal Powers?
Spinach is considered to be high in iron, calcium Vitamins A, C and K and Folic Acid.
It may have diuretic qualities.
Fun Facts
The cartoon character "Popeye the sailor" was portrayed as having become physically stronger after consuming spinach.
Country of Origin!
Culpepers' Spinach Powder comes from Germany!