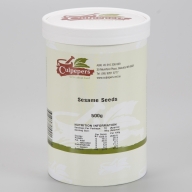 Sesame Seeds Canister 500g
A small white to off white seed that has a rich nut-like flavour.
Code:
CSES500
Quantity:
Good Supply
Availability:
Always Available
Usage
Mostly used to add flavour and texture to bread products. The seeds are generally sprinkled on top. They are also used in snack bars, breakfast foods and it is ground to make Tahini. It mixes well with olives, garlic and ginger. Delicious with broccoli and with chicken, in dessert or in breads.
It has a delicate nutty flavour.
Medicinal Powers?
It is a good source of Calcium and may reduce blood cholesterol. It is also rich in vitamins, iron selenium and magnesium. It may improve blood pressure and help to burn fat.
Fun Facts
Sesame crops were first harvested 3500 BCE and the crop commercially traded as long ago as 2000 BCE
Sesame has the highest oil content of any eatable seed.
Sesame has the ability to grow in areas that will not support the growth of other crops. It is known as the survivor crop.
There are a thousand of different sesame plants grown around the world. Most of them are wild and not harvested.
"Open Sesame" is a magical phrase in the story of "Ali Baba and the Forty Thieves" in One Thousand and One Nights. It opens the mouth of a cave in which forty thieves have hidden a treasure.
Sesame street is the name of a popular USA Children's show aimed at making learning fun.
Each pod (2-5 cm in length) may contain up to 100 or more seeds.
According to an Assyrian legend, when the gods met to create the world, they drank wine made from sesame seeds.
In India sesame seeds represent a symbol of immortality. In ancient Egypt, they used to call it "sesemt" and it was included in the list of medicinal drugs in some ancient scrolls.