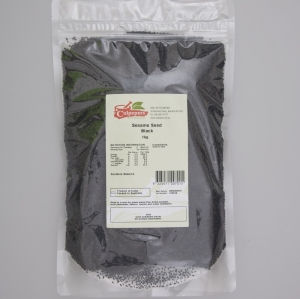 Sesame Seeds - Black 1kg
Sesame Seeds which are naturally black.
Code:
SESB1
Quantity:
Good Supply
Availability:
Always Available
Usage
The same as traditional sesame seeds. The are great as a sprinkle when baking bread, buns and pies.
Add to salads and often used in meat marinades. They add a gentle nutty taste and texture to foods.
Popular in Korean Cooking
Medicinal powers?
The contain health polyunsaturated fats and Omega 6.
The also contain fibre, calcium, iron, magnesium, and phosphorus. (Don't worry, you won't glow any more the usual)
Rich in some the vitamin B's.
Fun Facts
Raw sesame seeds are more nutritious than toasted sesame seeds.
Black Sesame Seeds have their hulls intact whereas white sesame seeds have their hulls removed.
Sesames seeds are squished to make sesame oil.
Black Sesame Seeds are also known as "Kala til"
Country of origin
Culpepers Sesame Seeds black come from India