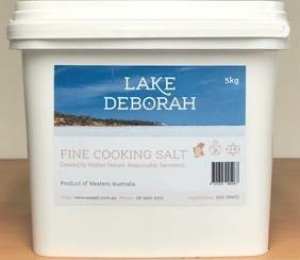 Salt - Cooking (Superfine) Tub 5 kg
Salt is a crystal comprising of Chloride and Sodium. It is used as a seasoning on food.It is also available in a 25 kg bag. (Only as a pick up from Culpepers.) Contact us for details and to arrange your order.
Code:
SALTCTUB5
Quantity:
Good Supply
Availability:
Always Available
Usage
This superfine cooking salt is used extensively in cooking as a flavour enhancer and to cure a wide variety of foods such as bacon and fish.
This salt is 1mm (maximum) particle size. It has no flowing agent.
Medicinal Powers?
Culpepers recommend that individuals consume no more than 1500-2300 mg of sodium (3750-5750 mg of salt) per day.
Fun Facts
Lake Deborah and the township of Lake Deborah is located East of Perth near Koolyanobbing. Lake Deborah township has a population of 61 people.
Country of Origin!
This Salt comes from Lake Deborah is now available from Culpepers!