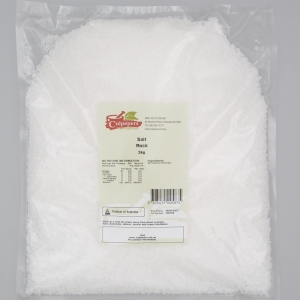 Salt - Rock 3kg
Halite (Rock Salt) occurs in vast beds of sedimentary evaporate minerals that result from the drying up of enclosed lakes.

Code:
SALTROCK3
Quantity:
Good Supply
Availability:
Always Available
Usage
Mostly, rock salt ends up in a salt grinder and is a fancy way of having salt on the dining table. Some believe it tastes superior to table salt.
It as a particle size of about 3mm. It has no flowing agent.
Medicinal Powers?
Culpepers recommend that individuals consume no more than 1500-2300 mg of Sodium (3750-5750 mg of salt) per day.
Fun Facts
Also known as bubble salt due to its shape.
Salt Rock is the name of a small town on the dolphin coast of KwaZulu-Natal in South Africa. There is also a Salt Rock in West Virginia USA.
After aviation fuel is purified, salt is mixed with it to remove all traces of water before it can be used.
In old Japanese theatres, people used to sprinkle salt on the stage before a performance. They thought it would prevent evil spirit from casting a spell on the actors.
Salt may remove stains on clothes.
Country of Origin!
Culpepers' Rock Salt comes from Australia! It comes from Lake Deborah in WA.