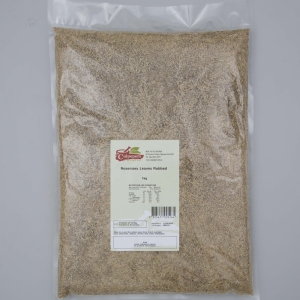 Rosemary Leaves Cut 1kg
A green leafed herb that grows to about 90 cm. The leaves are dried and then cut into small particles.

Code:
ROS1
Quantity:
Good Supply
Availability:
Always Available
Usage
It has a strong, almost pine flavour, that works well with lamb, poultry and game. Too strong on seafood as it will overpower the natural flavours. Use with egg, pork, lamb, eggplant or within salads.
It has an astringent, peppery and woody taste.
Medicinal Powers?
May inhibit cancer and improve food absorption. Rosemary scent and incense may help sufferers of nightmares.
Also can be used against a headache that is a result of stomach upset.
Chewing Rosemary may be a natural pain killer for dental problems.
The herb is a rich source of Iron, calcium and dietary fiber and is loaded with antioxidants.
Fun Facts
Used to be worn by brides and also given as gifts to wedding guests as a symbol of the brides purity. Today that tradition has been replaced with a bouquet of flowers.
"Rosemary and Thyme" is the name of a British TV mystery Series staring Felicity Kendal and Pam Ferris as Gardening Detectives!
There is a religious fable, that says that the rosemary plant will never grow taller than the height of Jesus, which is 1.8 meters (6 feet).
During the Middle Ages, Rosemary started to be used in Europe, for culinary applications.
Greek scholars used to carry sprigs of Rosemary to help improve memory. It was also often associated with lover's fidelity and remembrance.
In Australia, sprigs of rosemary are worn on Remembrance Day and ANZAC Day to honour the soldiers who died in the First World War. Rosemary is believed to strengthen memory and so it became a symbol to help us to never forget.
Country of Origin!
Refer to product information sheet.