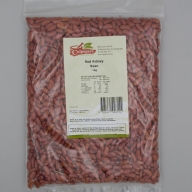 Red Kidney - Beans 1kg
This dried bean is also known as a Red Bean. The red kidney bean is named after its resemblance in shape and colour to a human kidney.
Code:
REDKID1
Quantity:
Good Supply
Availability:
Always Available
Usage
Soak for about 10 hours in fresh water at 4 degree C. Drain and rinse prior to cooking. Bring to boil for 10 minutes and then simmer for about 35 minutes. Red Kidney beans are commonly used in salads, soups, Chilli Concarne, and Creole dishes of beans with rice.
They mix well with onions, celery, garlic and bell peppers.
Medicinal Powers?
High in Protein, fibre and Iron. Red Kidney Beans are low in fat, but are a good source of minerals such as magnesium, potassium and manganese.
They can possibly reduce heart-disease and diabetes by controlling blood sugar level, lower cholesterol and even aid in weight loss.
Eating raw kidney beans may cause liver damage.
Fun Facts
Not so funny. Red Kidney beans are more toxic than most other bean varieties. They need to be pre-soaked, rinsed very well before cooking.
Country of Origin!
Culpepers' Red Kidney Beans come from The USA!