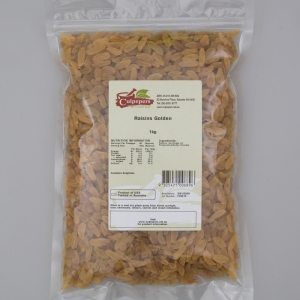 Raisins - Golden 1 kg
This bright yellow extra large raisin adds colour and sweet flavour to mixed fruit.
Code:
RAISINGD1
Quantity:
Good Supply
Availability:
Always Available
Usage
Often used in rice, salads, Fruit cakes, buns, cookies, stuffing, couscous. Also make a great snack.
Medicinal Powers?
High in iron, potassium, calcium and certain B vitamins. Raisins are a good source of fiber and rich in antioxidants. Raisins are 70% pure fructose (a natural form of sugar) which is easily digested for quick energy.
They might prevent certain forms of cancer and reduce heart disease. May have anti-inflammatory properties.
Fun Facts
It is believed that the first people to harvest raisins were the Romans, Greeks, Armenians and Phoenicians.
Golden raisins may be treated with preservatives such as, sulfur dioxide, to help retain their colour.
Country of Origin!
Culpepers' Golden Raisins come from South Africa!