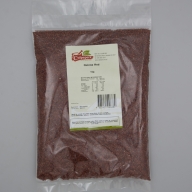 Quinoa Seeds - Red 1kg
Quinoa is an ancient grain. They come in Red, Black or White seeds. Originating in South America it is becoming very popular in Australia.
Code:
QUINOAR1
Quantity:
Good Supply
Availability:
Always Available
Usage.
Best to soak to soften before use. Used in breakfast cereals, bread products, salads and yogurts.
Medicinal Powers?
Quinoa is "gluten free" and is often a substitute for couscous for Celiac sufferers.
It has an impressive nutritional list and is high in protein, magnesium, calcium, phosphorus and Iron.
Fun Facts.
Pronounce it as Keen-wa.
It has a mild nutty flavour.
Quinoa can survive in many different conditions : high altitude, thin and cold air, hot sun or even salty and sandy soil.
Country of Origin!
Culpepers' Red Quinoa comes from Bolivia!