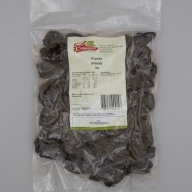 Prunes - (Pitted) 1 kg
Prunes come from a plum tree. They are picked, de-seeded and preserved in a thick sugar infused syrup.
Code:
PRUNEP1
Quantity:
Good Supply
Availability:
Always Available
Usage
On a cheese board, within bread products, as a dessert, a snack or added to cereal. Can be used in smoothies.
Prune juice is very popular and is a great tonic against dyspepsia, piles, obesity and skin problems.
Medicinal Powers?
They are rich in potassium, fibre and Iron. Great source of vitamins and antioxidants. Stimulates the colon and is therefore a gentle remedy for constipation. Should be eaten in the morning.
Fun Facts
In the Navy they are often referred to as "Black coated workers"!
To improve the market image of prunes some companies have taken to calling them dried plums. This can be confusing because their is also salt plums on the market.
In Worcestershire, England they make a plum wine known as Jerkum. Often mixed with apple cider as it is quite potent when consumed neat.
Country of Origin!
Culpepers' Prunes comes from Chile or the USA!