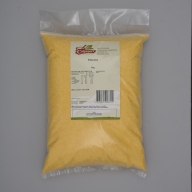 Polenta Coarse 1kg
Made from corn. Polenta is either finely or coarsely ground and is generally pale yellow.
Code:
POL1
Quantity:
Good Supply
Availability:
Always Available
Usage
Polenta takes quite some time to cook. Simmer at a low heat in 4 to 5 times its volume of water for about 45 minutes. It needs constant stirring or it will go lumpy. Can be served hot or cold, soft or hard (grilled), it is versatile.
Mixes well with Rosemary.
Medicinal Powers?
None Found
Fun Facts
Cooked polenta can be molded into fun shapes. By adding food colours you can make it into a fun food!
To make white polenta - use Culpepers buckwheat flour.
Country of Origin!
Culpepers' Polenta comes from Australia!