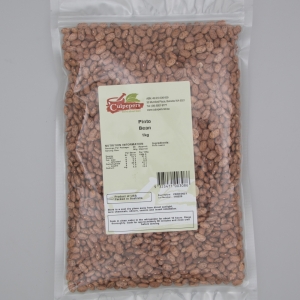 Pinto - Beans 1kg
A popular bean in Mexican Cuisine.
Code:
PINTO1
Quantity:
Good Supply
Availability:
Always Available
Usage
Pre-soak the dried beans for 8 hours at 4C. Drain and rinse well. Cook for fresh water for about 45 minutes. You'll need 1.75 cups of water for each cup of beans.
When cook it will lose it's mottled colour.
Used in Mexican Cuisine especially for burritos and used in salads, soups and casseroles.
Medicinal Powers.
All beans are high in fibre and are regarded a healthy eating.
Fun Facts
The name comes from its similarity to the markings on Pinto horse.
Other names for the bean include Maverick, Othello and Sierra.
Country of origin.
Culpepers Pinto beans come from the USA