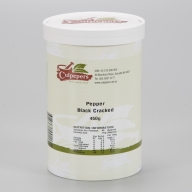 Pepper - Black Cracked Canister 450g
Pepper is grown on a vine and is harvested Green. The Peppercorns are sun-dried until they blacken. These peppercorns are then gently milled until they crack.
Code:
CPEPBCR450
Quantity:
Good Supply
Availability:
Always Available
Usage.
Lightly sprinkle on a savoury dish to add colour and flavour. It can also be stirred into the dish during cooking to add flavour. Delicious when used with red meats, games, seafood or in egg dishes. You can also, sprinkle a bit of black pepper on top of fruits to enhance their taste, such as strawberry or pear. Its also mixes well with other spices, that is why many blends take advantage of its flavour.
Medicinal Powers?
Extracts from pepper have been found to have antioxidant properties and anti carcinogenic effects.
Fun Facts.
Ancient roman traders thought that peppercorns were the seeds of the chilli pepper and so they gave them a similar name. The name stuck and is in common use today.