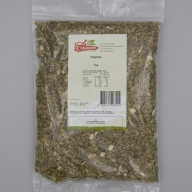 Pepitas 1kg
Pepita's is the Spanish name for Pumpkin Seeds. The fruit is very large and grows on stems that run along the ground for up to 9 meters.
Code:
PEP1
Quantity:
Good Supply
Availability:
Always Available
Usage
Used as a topping in bread products and is used in baking generally and even on pizzas. Delicious on top of salads, in sauteed vegetables or even in burgers. Is also used as a snack food.
Medicinal Powers?
The seeds are also a good source of protein, iron, zinc, manganese, phosphorus, copper and potassium.
Ground seeds mixed in water is effective against tape worms.
The seeds contain anti tumour properties and may be suitable in the treatment of an enlarged prostate.
Fun Facts
They are very popular in Mexico and other Latin American countries. Often they are typically salted and spiced up after roasting.
"Pepita" comes from Mexico, where the Spanish phrase "Pepita de calabaza" means "little see of squash".
China produce more pumpkins and so pepitas than any other countries.
Country of Origin!
Culpepers' Pepita's come from China!