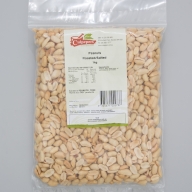 Peanuts Roasted/Salted 1kg
Peanuts which have been roasted and salt added.
Code:
PNUTRSTSLTD1
Quantity:
Good Supply
Availability:
Always Available
Usage
Suitable as a snack.
Medicinal Powers?
Peanuts are a good source of Niacin, Foliate, Fibre, Vitamin E, Magnesium and phosphorus. Peanuts are also high in fat and rich in protein.
Fun Facts
Imported raw peanuts must be dehusked. Only Australian Raw Peanuts can be sold in-shell. This is to protect the local industry from overseas diseases and infestations.
It is thought that peanuts originated in South America and have existed for thousand of years.
Country of Origin!
Refer to product information sheet.