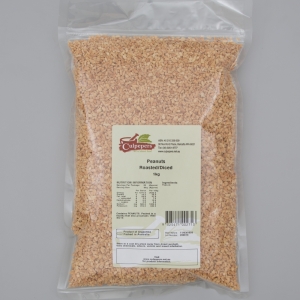 Peanuts - Roasted and Diced 1kg
Peanuts which have been roasted and then diced. The particle size is generally 2-4 mm.
Code:
PNUTDICED1
Quantity:
Good Supply
Availability:
Always Available
Usage
Used in baking and cake decoration. Also used in chocolate products. Used as a topping on ice cream.
Medicinal Powers?
Peanuts are a good source of Niacin, Foliate, Vitamin E, magnesium and Phosphorus.
They might prevent from risk of heart disease or gallstone.
Fun Facts.
Crushed nuts are a source of juvenile amusement.
Peanuts grow underground!
Country of Origin!
Culpepers' diced nuts come from China or Argentina!