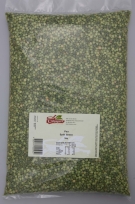 Peas - Split Green 1kg
A small spherical seed from the Blue pea. They come from New Zealand, USA and Canada.
Code:
PSG1
Quantity:
Good Supply
Availability:
Always Available
Usage
Soak for about 10 hours in clean cold water, drain and replace water and cook for about 45 minutes. Has many uses and is popular in split pea soup or pea puddings.
Medicinal Powers?
Split peas are high in protein and are low in fat. They are also a source of vitamins A and B, magnesium, potassium and fibre.
Fun Facts
The peas are round when harvested.
During the Second World War, Split Peas were used to improve the British Supermarine Spitfire fighter aircraft. They glued Split Peas to the flush rivets to see if round head rivets would decrease the performance of the aircrafts. After all the tests they finally decided to change some of the flushed-headed rivets to dome-headed rivets thereby improving the aerodynamics of the aircraft.
Country of Origin!
Culpepers' Green Split Peas come from The USA!