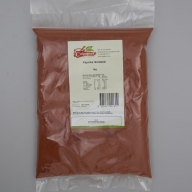 Paprika Smoked 1kg
Ground capsicum that has been dried over wood smoke or had smoke flavour added.
Code:
PAPSMOKED1
Quantity:
Good Supply
Availability:
Always Available
Usage
Smoked Paprika adds both paprika flavour as well as a smoky flavour taste to a dish.
Can be used sparingly. Delicious on vegetarian meals.
Medicinal Powers?
Paprika has a high level of Vitamin C and is high in Antioxidants.
Fun Facts.
Spanish Paprika, including Pimenton de la Vera has a distinct Smoky Flavour and aroma as it is dried by smoking, typically using burning oak.
Paprika and Chilli are cousins.
Country of Origin!
Culpepers' Paprika Smoked comes from Spain, Israel or Peru!