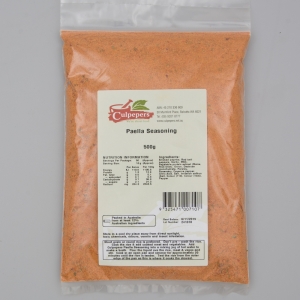 Paella Seasoning 500g
A seasoning when cooked with rice, meat and vegetables adds a tasty spicy flavour to the food.

Code:
PAESEAS500
Quantity:
Good Supply
Availability:
Always Available
Usage
Add seasoning to rice, meat and veg to create a Spanish style dish. Short grain or round rice is preferred. Don't pre-wash the rice as the starch improves the texture. Cook the rice & add cooked meat and vegetables. Add Culpepers Paella Seasoning into a mixing jug of hot water to make a broth. Pour the liquid ove the rice, meat & veges and stir. Cook in an open pan and simmer for approximately 20 minutes until the rice is tender. Test the rice from the outer edge of the pan as this is where it cooks the slowest.
Medicinal Benefits?
As with all blends it depends on the ingredients and what you mix them with. Good food makes you feel good.
Fun Facts
Paella is also known as a Spanish Valencian Rice Dish. It was perfected int he 19 th century.
Country of Origin.
Our Paella Seasoning blend was perfected here at Culpepers.