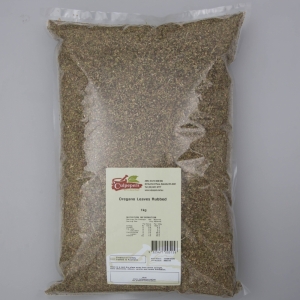 Oregano Leaves Rubbed 1kg
This is a popular herb. It has purple flowers and spade shaped, olive green leaves.
Code:
OREGL1
Quantity:
Good Supply
Availability:
Always Available
Usage
It is most often used with roasted, fried or grilled vegetable and meats. It is also popular on Pizzas. Delicious with eggplant, zucchini or in moussaka. Commonly used in Mexican cooking.
Medicinal Powers?
Can be used as an antiseptic and possibly as a cure for stomach and respiratory ailments.
Fun Facts
Oregano is related to the herb Marjoram. Oregano is also known by some people as "Wild Marjoram" Oddly both are from the same Genus as Mint.The plant of Oregano looks more robust than marjoram and Oregano's flavour is stronger than marjoram's one.
The better the quality the more it will numb the tongue!
Country of Origin!
Culpepers' Oregano Leaves come from Turkey, Chile or Peru!