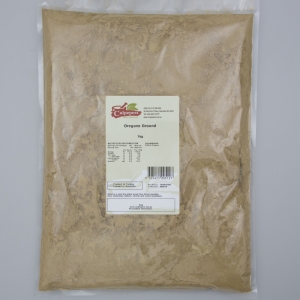 Oregano Ground 1kg
A popular herb with green leaves that is dried and ground into a fine powder.
Code:
OREGG1
Quantity:
Good Supply
Availability:
Always Available
Usage.
It is often used with roasted, fried or grilled vegetables, meat and fish. It is also popular on Pizza's.
Oregano can complements basil.
Medicinal Powers?
Can be used as an antiseptic, as well as a cure for stomach and respiratory ailments.
Fun Facts.
Oregano is pronounced "Or-rag-eno" in the USA.
Oregano started to be known in Australia in the early 20th century.
Country of Origin!
Culpepers' Oregano Ground comes from Turkey, Chile or Peru!