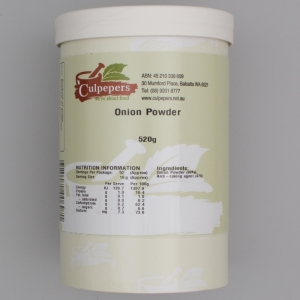 Onion Powder Canister 520g
Onion Powder in a 520g Canister.
Code:
CONP520
Quantity:
Good Supply
Availability:
Always Available
Usage.
Applications include pasta, pizza and grilled chicken.
Medicinal Powers?
They are high in Vitamin C, vitamin B6 and folic acid. They are a great source of dietary fibre.
Regular consumption of onion product may constrain romance.
Fun Facts.
Great on Hot Chips as a salt substitute.
Country of Origin!
Culpepers' Onion Powder comes from China or the USA!