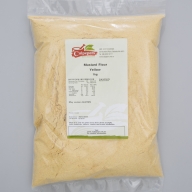 Mustard Flour - Yellow 1kg
Mustard seeds are the small round seeds of various mustard plants. These are harvested and then ground into a fine powder.

Code:
MUSTFL1
Quantity:
Good Supply
Availability:
Always Available
Usage.
Adds a mustard flavour to any savoury dish. Often used in making salad dressings.
Medicinal Powers?
It may inhibit the growth of existing cancer cells and be protective against the formation of such cells.
Mustard is also known as a stimulant and diuretic. It also helps for general muscle relief.
Fun Facts.
Canada is the world's largest producer of Mustard seed.
The first documented use of mustard was 7000 years ago.
Mustard contains an enzyme named myrosinase. When it comes in contact with liquids, that creates the heat.
Country of Origin!
Refer to product information sheet.