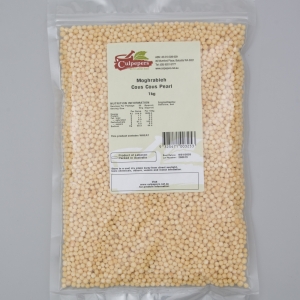 Moghrabieh - Couscous Pearl 1kg
Moghrabieh is a form of rolled semolina, similar to Couscous except much larger. It is usually made from Durum wheat.
Code:
CCP1
Quantity:
Good Supply
Availability:
Always Available
Usage.
They are a great addition to soups and stews and make a good accompaniment to chicken, lamb and salmon. They can also be mixed with vegetables or shrimps. Can be used in desserts and are delicious with apples.
Medicinal Powers?
High in Fibre. Good source of protein and vitamins such as vitamin B.
Fun Facts
A popular Lebanese dish, Moghrabieh with Cinnamon flavoured chicken.
Couscous is a proof of solidarity in North Africa. It is usually cooked during family celebrations. It is also considered as a symbol of abundance, fertility and fidelity.
Country of Origin!
Culpepers' Moghrabieh comes from Lebanon!