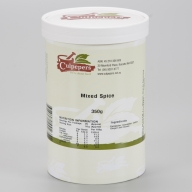 Mixed Spice Canister 350g
A mix of spices with Coriander, Cinnamon, Cassia, Ginger and Cloves.
Code:
CMIXS350
Quantity:
Good Supply
Availability:
Always Available
Usage.
It is often used in baking, or to compliment fruits and other sweet dishes such as sweet pies or fruitcakes.
Medicinal Powers?
See individual ingredients.
Fun Facts.
The term "mixed spice' has been used for this blend of spices in cookery-books as long ago as 1828.
In North America, they call it "Apple pie spice" or the "Pumpkin pie spice".
This blend is often confused with Allspice, which is an individual spice.