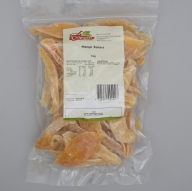 Mango Spears 1kg
Mangos are a large fleshy stone fruit. The spears are strips of fruit that are sugar infused and dried.

Code:
MANGO1
Quantity:
Good Supply
Availability:
Always Available
Usage
They are often found on a cheese board with other fruits and crackers. Also used to make a dried fruit salad or brownies and cookies. Perfect to add a tropical flavour to some dishes.
Medicinal Powers?
Might be used for strengthening the nervous and circulatory systems, ridding the body of toxins and treating anemia. The leaves of the mango plant can cause contact dermatitis.
They may increase immunity and relive from constipation due to the fiber they contain.
Fun Facts
The mango is native to South America but is the National Fruit of India, Philippines and Pakistan! The fruits and the leaves are traditionally used to decorate religious ceremonies, festivals and weddings.
Buddha is said to have meditated in a mango grove under the shade of a mango tree.
Mangos are from the same family as pistachios and cashews. Some Mango trees have lived for more than 300 years.
Country of Origin!
Culpepers' Mango Spears come from Thailand!