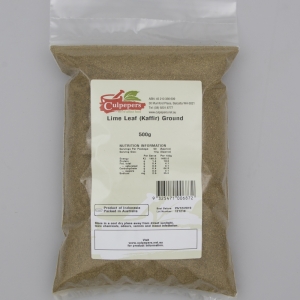 Lime Leaf (Kaffir) Ground 500g
The leaf of the lime tree which has been dried and then ground into a fine powder. AKA Kaffir powder.
Code:
LIMELEAF500
Quantity:
Good Supply
Availability:
Always Available
Usage
Used extensively in Thai cooking and in particular Tom Yum Soup. Kaffir lime leaves are used in Vietnamese cuisine with chicken to add fragrance.
It has a citrus and zest of mandarin taste.
Medicinal Powers?
The juice and the rinds are used in traditional Indonesian medicines.
Fun Facts.
Lime trees are native to Southeast Asia. Limes are often confused with lemons.
The oil from the lime rind has strong insecticidal properties.
The "Kaffir" Lim tree produce lime which are really rough and were considered as inferior. The word "Kaffir" was used in South Africa to denote inferior persons, but now this word is considered offensive when speaking about people.
Country of Origin!
Culpepers' Lime leaf powder comes from Indonesia!