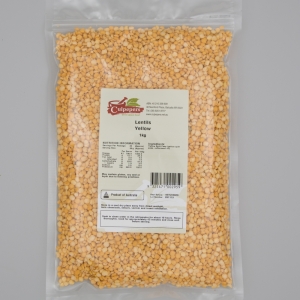 Lentils - Yellow 1kg
They are a type of a pulse. Also come in Red and Green/Brown. They are very hard and require soaking prior to cooking.
Code:
LENTYELLOW1
Quantity:
Good Supply
Availability:
Always Available
Usage
Soak in fresh water for about 20 minutes at 4 degree C, drain and then refill with fresh water to cook for about 20 minutes. Serve in soups, salads, casseroles and dips.
Medicinal Powers?
High in Protein, Fibre and Iron.
Fun Facts
In " Cinderella", one of Grimm's Fairy Tales, Cinderella's stepmother assigns to Cinderella the task of retrieving lentils out of ash. If she succeeds, she may go to the ball.
Country of Origin!
Culpepers' Yellow Lentils come from Australia!