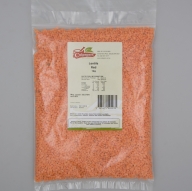 Lentils - Red 1kg
It is a type of a pulse. They also come in Green/Brown and Yellow. They are very hard and require soaking. Red Lentils are the sweetest and nuttiest of the lentils.
Code:
LENTRED1
Quantity:
Good Supply
Availability:
Always Available
Usage
Soak for about 20 minutes at 4 degree C, drain and rinse well. Cook for about 20 minutes. Great as a dish or mix in with rice. This product is very versatile and has many uses.
They're perfect for Indian cuisine.
Medicinal Powers?
High in Protein, fibre and Iron
Fun Facts
They tend to get mushy when over cooked.
It is one of the oldest domesticated crops, they originated in South West Asia.
Lentils grown in Australia are divided in 2 groups (red and green). However, Australian production is dominated by red lentils.
Country of Origin!
Culpepers' Red Lentils come from Australia!